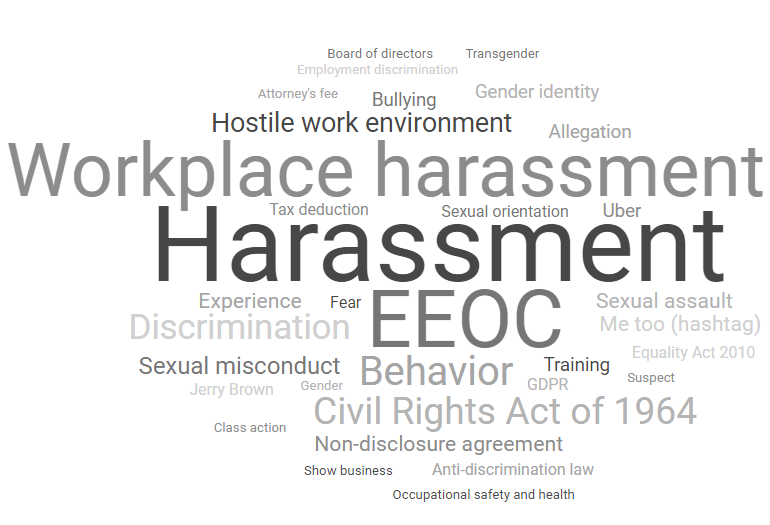 At Lexology we hold a privileged position, with access to a wealth of information. All of our 700,000-plus articles are filed under jurisdictions and work areas, but they also have individual topic tags applied. This granularity allows us to see which individual topics are proving popular with our readers, and how those hot topics change over time. Our contributors are leading international law firms and our readers largely in-house counsel, resulting in a unique social commentary through a legal lens. This legal perspective means that while the trending topics are in line with the mainstream media, we often see associated topic tags offering a legal angle on a recent event or popular topic.

This week, sexual harassment has once again dominated headlines internationally. In the United Kingdom, allegations have surfaced following the Presidents' Club Charity Dinner, and the government has announced that it will review the use of non-disclosure agreements in the context of silencing victims or accusers. In the United States, Netflix announced a $39 million non-cash charge for unreleased content widely reported to feature Kevin Spacey, who faces multiple allegations of sexual misconduct.

Lexology has over 1,700 articles about sexual harassment; this post examines the legal topics in those articles and how associated readership levels have changed over recent months.
Increased readership


October 2017 saw a significant jump in the number of reads about sexual harassment. As some context for this timing, the New York Times published its story detailing allegations against Harvey Weinstein on October 5 2017. On October 15 2017 and over the following weeks, #MeToo dominated Twitter. Like every year, December saw a dip in reads across Lexology as the holiday season was in full swing. The reads so far in January are already higher than October 2017 levels, as seemingly endless allegations come to light against individuals in the public eye.

Associated topics

Knowing that sexual harassment is more read about is notable, but it is more interesting to colour that information with some context: what have people been reading about, and which articles have had particularly high engagement?



By looking at the related topic tags, we can see the legal issues and topics surrounding sexual harassment. A large proportion of these tags consider the topic from an employment perspective, and we see the US Equal Employment Opportunity Commission (EEOC) featuring prominently, as well as the 'Civil Rights Act of 1964', which prohibits employment discrimination based on race, colour, sex or national origin. 'Workplace harassment', 'hostile work environment' and 'employment discrimination' are also present. Many of the articles on Lexology offer advice and guidance for employers on the policies they should have in place surrounding this prevalent issue.

The table below lists the 10 sexual harassment-related articles with the highest reads by in-house counsel since October 1 2017.
We expect to see increasing coverage of content on this topic as our contributors continue to advise and inform about the legal issues and consequences. To stay up to date on all of the legal issues surrounding sexual harassment, follow the topic hub here. You can explore all topic hubs, including related issues such as the gender pay gap, here.